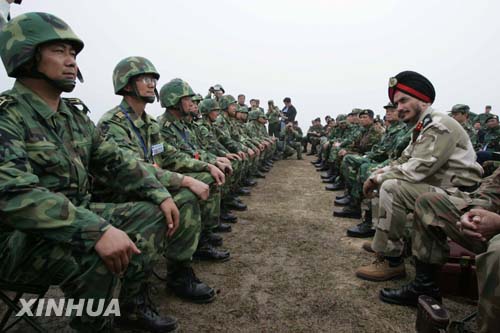 China and India vowed yesterday to resolve the longstanding Himalayan border dispute that once sparked war between the two Asian giants.
The dispute has also ignited fresh tensions in the past year.
Indian Prime Minister Manmohan Singh and Chinese Premier Wen Jiabao agreed to work together to disrupt regional terror finance networks, and resolve a water dispute over the shared Brahmaputra river.
"There is enough space in the world for the development of both India and China, and indeed enough areas for India and China to co-operate," the two leaders declared in a joint statement. The statement echoed sentiments expressed by Mr Wen, who arrived in New Delhi on Wednesday with a 400-strong business delegation and called for a new era of "strategic consensus" with India.
It reflected cautious Chinese support for India's bid to secure a permanent seat on the UN Security Council, a significant mark of progress given that China has previously expressed misgivings over India's global ambitions.
Mr Wen's India visit is his first in five years and comes at the end of one of the most tense periods in Sino-Indian relations since 1962, when China launched a three-pronged attack on India's northern Himalayan borders. The two nations, who together account for a third of the global population, have faced off this year over water rights to the Brahmaputra river, China's nuclear supply agreement with Pakistan, its expanding influence in South Asia, and Beijing's decision to grant special visas stapled to the passports of Indian residents of Jammu and Kashmir.
Relations were further strained in August when India cancelled defence exchanges after China refused a visa to a Kashmir-based general, and again last week when India sent an envoy to the Nobel Peace Prize ceremony for jailed Chinese dissident Liu Xiaobo.
While the two countries have formed alliances against Western demands on world trade and climate change talks, their military build-ups have stoked security tensions in the region.
China remains strongly critical of India for granting residence to the exiled Tibetan spiritual leader the Dalai Lama. But Mr Wen, who on Wednesday oversaw the signing of more than $16 billion in trade deals with India, said yesterday he was confident India and China could raise co-operation and friendship to a higher level in the new century.
India's Foreign Ministry played down any tensions while conceding that the meeting between the Chinese Premier and Mr Singh touched on difficult territorial and security issues.
"We have made it very clear that issues involving the Indian state of Jammu and Kashmir are a core concern for us, as Tibet and Taiwan are core concerns for them," a senior Indian official told The Australian yesterday.
"We will move towards trying to find agreement on those issues while not letting them impact on areas where we can move ahead."
China is India's largest trade partner, with two-way trade worth $60bn a year, and yesterday the two countries agreed to increase that to $100bn by 2015.
Responding to Indian concerns that the trade relationship was skewed too far in China's favour, Beijing agreed to increase Indian access to Chinese markets.
Mr Wen's visit comes soon after trips by US President Barack Obama, British Prime Minister David Cameron and French President Nicolas Sarkozy.
But the Chinese Premier has sparked displeasure in New Delhi by including Pakistan in his itinerary. Indian Foreign Minister S.M. Krishna told reporters yesterday: "Terror of any kind . . . cannot be an instrument of state policy."