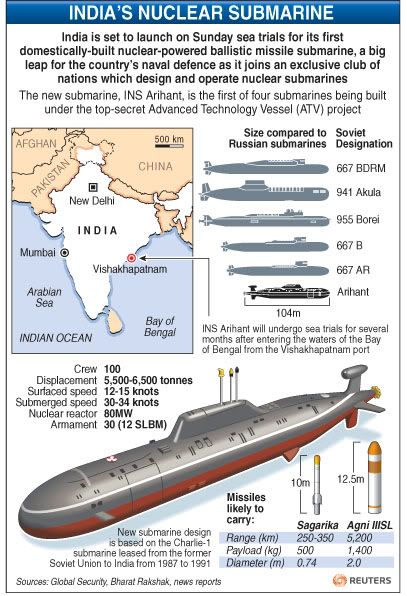 The Indian Navy has begun construction of second and third of its nuclear submarines, speeding up the indigenous underwater capability programme.
According to well placed sources, while work on Arihant, the first nuclear submarine that was launched in 2010, was going on as scheduled, construction of the hull and sub components of the remaining two submarines was also underway. Considerable experience has been built from the development of Arihant, and the successive two submarines would be successively more potent with more power and punch.
The Indian Navy also hopes to get the nuclear powered K-152 Nerpa from Russia around March 2011, and that would help Indian officers and seamen in gaining renewed experience in operating nuclear vessels. Indian crews are already training on board the vessel, an Akula-II class 12,000 tonne submarine.
Russia, as part of the Soviet Union, had given the first nuclear vessel to India in the late 1980s on a 10-year lease, but whatever experience Indian sailors got on operating it was lost as most of them have retired and the programme was not renewed.
There was no official confirmation on what is happening on building the nuclear submarine capability, but Chief of Naval Staff Admiral Nirmal Verma, told newsmen on his Navy Day press conference that the Naval Headquarters was aware that the Navy's submarine fleet was getting old and required a renewed effort to build an honourable number of both nuclear and conventional submarines.
Arihant itself is due to be commissioned in 2012.
Naval sources indicated that some of the Indian warships could be equipped with nuclear arms as part of India's No-First-Use-But-Massive-Retaliation Policy.
"We have Arihant. It is there. We have a triad in place now, but we have to use it as effectively as possible. We will have Arihant going within two years. There is progress in the project, despite some initial hiccups," the Naval Chief said without giving any details.
Self reliance through indigenization is absolutely essential, he significantly stressed.
It may be noted that in the coming years, the Indian Navy's submarine fleet could come down to as low as only eight submarines, from its existing strength of 15. And these are also old despite some periodic upgrades. The Navy has 10 Soviet vintage Kilo class submarines and four German HDWs. The 15th is a very old Foxtrot class, and set to be decommissioned.
Responding to a question by India Strategic, he observed: "There was a downward trend because of the gap that took place. For 17 years, we didn't commission any indigenous submarine. That is why this gap took place."
Conceding that there was a delay in the Scorpene programme, Admiral Verma said that it was now on track.
The French DCNS has reportedly offered two more submarines to make up for the depletion in addition to the six Scorpenes it plans to deliver from 2014 onwards. The Scorpenes are being build at the state-run Mazagon Docks Ltd. (MDL).