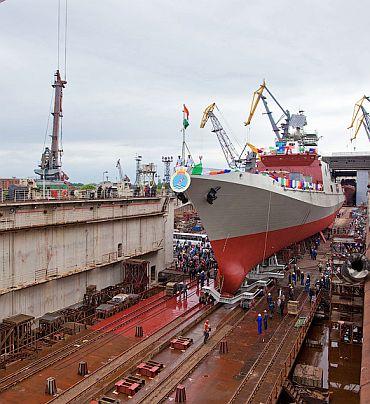 The INS Trikand is powered by four gas turbines and is fitted with state -of -the -art navigation, communication and electronic warfare equipment.
It is also equipped with a very advanced radar and sonar systems for early detection and warning.
Deputy Head of the Defence Committee of the State Duma, Savenko, Deputy Commander-in-Chief of the Russian Baltic Fleet Vice Admiral V P Kravchuk and top officials from ROSOBORONEXPORT state arms exporters, United Shipbuilding Corporation, Federal Service for Military Technical Cooperation, Russian industry and public representatives also attended the ceremony.
Ambassador Malhotra congratulated workers of the state-owned Yantar Shipyard and all associated organisations upon the successful launch.
He recalled that defence cooperation was a key pillar of the special and privileged strategic partnership between India and Russia, and that that the launch of INS Trikand reflected the sophisticated level that India-Russia defence cooperation had achieved.
Malhotra noted that joint development and construction of advanced and frontline defence system and platforms, such as INS Trikand, had become a new hallmark of India-Russia defence cooperation.
Earlier, Russia had built INS Talwar, INS Trishul and INS Tabar at the Balitiisky Zavod shipyard in St Petersburg.